Business Environment
Georgia has recently been ranked in the following categories:
NO. 1 STATE FOR BUSINESS (CNBC, SITE SELECTION + AREA DEVELOPMENT)
NO. 1 BEST STATE FOR WORKFORCE (CNBC)
NO. 1 LABOR CLIMATE (AREA DEVELOPMENT)
NO. 2 INFRASTRUCTURE AND GLOBAL ACCESS (AREA DEVELOPMENT)

There are many reasons why Georgia consistently ranks as the top state for business. Companies access global markets through seamless air, sea, rail and highway networks, including the fourth-largest and fastest-growing container seaport in North America and the busiest, most efficient passenger airport in the world.
Georgia's workforce of more than 6 million is constantly refreshed by the growing number of people who move there along with the 90,000 graduates from 80 colleges, technical colleges and universities across the state, including nationally ranked Georgia Institute of Technology, Emory University and the University of Georgia.
Dublin-Laurens County could not be positioned better to take full advantage of all the award winning business advantages of Georgia. Dublin is located comfortably outside of any potential hurricane zones while still having 90 mile access to North America's fastest growing deep water port of Savannah. Location is critical, but it is not the only advantage of the area. Laurens County has the third lowest tax rate out of 159 counties in the state. The area is also served by multiple electric providers that provide rates at 15%-20% below the national average. Georgia has one of the lowest non-union rates in the U.S., and manufacturers locating here from other areas of the country can expect a non-union atmosphere from employers and employees alike. Dublin has invested significant resources in building out one of the most robust and state of the art utility systems in the country. The community has millions of gallons per day of excess water and sewer capacity along with unlimited amounts of natural gas availability. The labor force, consisting of over 300,000 people, here is one of the most dedicated and loyal in the country.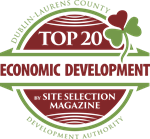 What makes Dublin-Laurens County especially unique is historical leadership that has produced results on par with some of the largest metropolitans in the U.S. - including, for example, a local airport able to serve private air traffic, one of the largest Veterans Administration (VA) hospitals in the Southeast, a state-of-the-art fiber optics network, a downtown Wi-Fi cloud, and millions of dollars in new investment in downtown revitalization.
Companies relocating or expanding here can enjoy significant cost of doing business advantages, premier logistics advantages, and a community with leadership that places economic and community development as a priority.
Today, Dublin-Laurens County is home to over 70 diverse firms and was named one of the Top 20 Best Locations in America for Economic Development!