Transportation
Dublin-Laurens County's strategic location is complemented by outstanding transportation resources!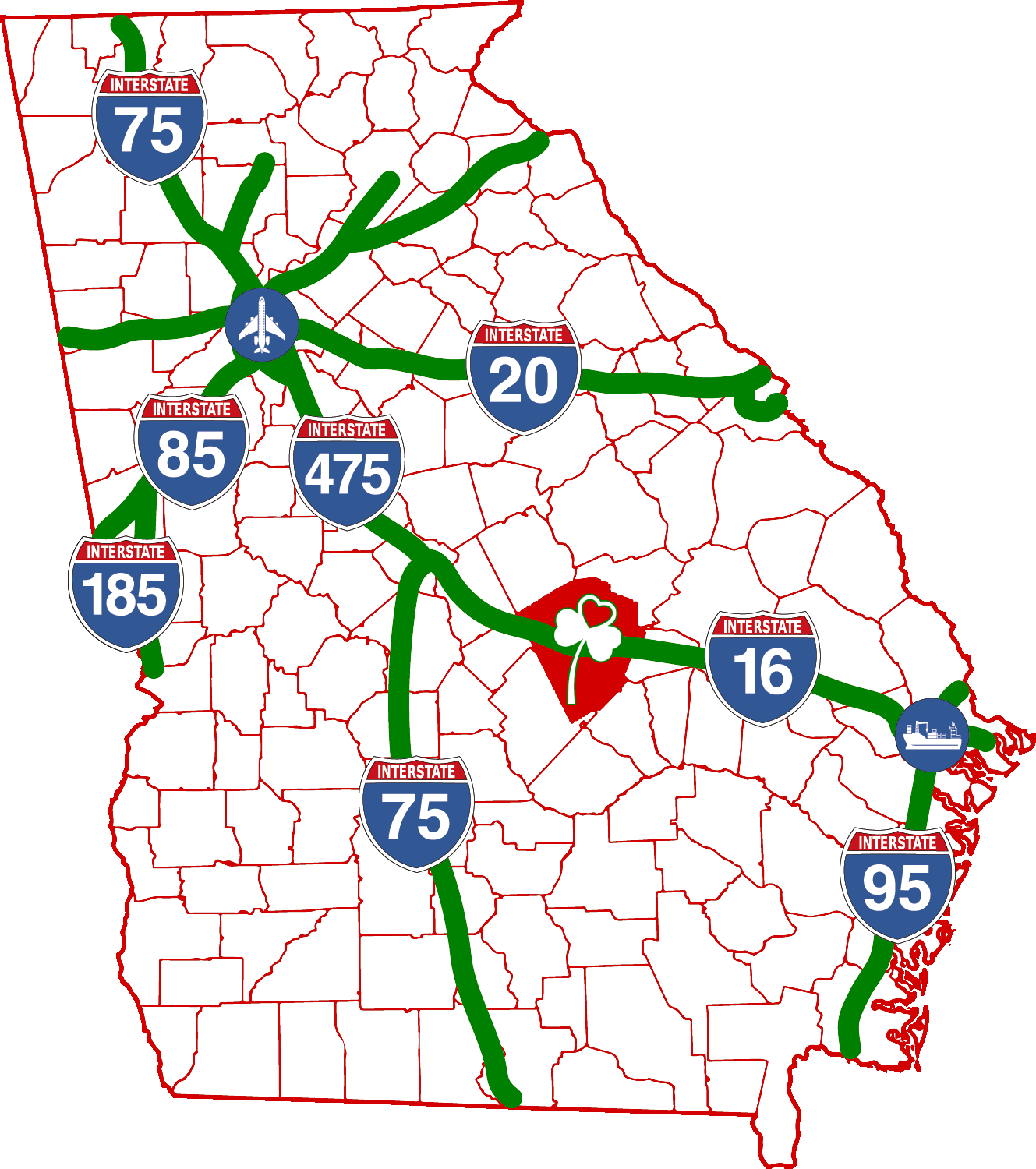 The 2016 opening of the $3.5 Billion expansion of the Panama Canal coupled with the deepening of the Port of Savannah (90 miles) creates a game changing logistical advantage for Dublin-Laurens County. Second generation cargo ships (Post Panamax) can now be serviced through the Ocean Terminal in Savannah which will be a tremendous asset to manufacturers and logistics providers in our area for generations. We are in the catbird seat and in a position to take advantage of some of the most well-known and robust infrastructure and transportation assets in the world.
Over 80% of all manufacturers today look for sites with close Interstate access. Dublin-Laurens County has six state-of-the-art full diamond interchanges on Interstate 16, one of the state's prime east-west connectors and a primary connector for cargo entering and leaving the Port of Savannah. Imagine the advantages of locating a company not only in a well-positioned interstate location but in one that is in the shadow of the fastest growing port in North America that can be served by interstate or via a J.D. Power & Associates award winning railroad provider.
Is air service your preferred method of freight delivery or commercial travel? We are less than 120 miles to two major international airports--Hartsfield-Jackson International Airport in Atlanta, GA, the world's busiest airport and Savannah/Hilton Head International in Savannah, GA.
Contact us to learn more about how our transportation advantages played a role in locating major U.S. distribution centers and manufacturers to Dublin-Laurens County.
Air
The W.H. "Bud" Barron Airport is located three miles west of Dublin off of U.S. Hwy 80 and is fully capable of handling corporate jets. The 6,500-foot paved and lighted primary runway is equipped with an instrument approach system to handle commercial traffic, a state-of-the-art weather information system, a 6,500-foot paved and lighted parallel taxiway and a 5,170-foot crosswind runway. The 4,000-square-foot terminal offers industries a fully equipped conference room.
Dublin-Laurens County is also in a central location for access to two international airports within less than two hours.
The Hartsfield-Jackson International Airport in Atlanta, the busiest airport in the world, provides access to direct flights to countless major cities throughout the world with a recently renovated international terminal, and it provides domestic flights to any major city in the U.S. within less than 4 hours.
The Savannah/Hilton Head Airport is located less than 90 miles from Dublin-Laurens County. With direct access from 1-16, it provides hassle free access to direct flights to a number of major cities in the U.S, and has the capacity of accommodating international flights.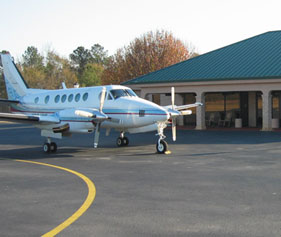 Road
Dublin is unique in the fact that it offers proximity to several major state and national highways.Interstate 16 cuts directly through Laurens County and serves as a major artery for the state of Georgia, connecting interstates 95 and 75. Dublin, with its central location on I-16, presents the ability to quickly access I-95, the foremost interstate highway on the East Coast of the U.S. Additionally, Interstate 75, which runs from the southern tip of Florida to the northern tip of Michigan, can be accessed within an hour from Dublin-Laurens County.
Because of its location on U.S Route 441, Dublin is connected to key major urban areas such as Miami, Orlando, Gainesville, Athens, and Knoxville. U.S. Hwy 441 runs for 939 miles from Miami to Rocky Top in Northeastern Tennessee.
Dublin also has a location on U.S. Route 80. Route 80 begins in Dallas, Texas, and runs east until it meets the ocean in Tybee Island, Georgia. Highway 80 serves as a major route of east/west travel for Georgia, Alabama, Mississippi, Louisiana, and Texas. Georgia State Route 257 runs from Cordele to Dublin, and U.S. Route 319, which stretches from the panhandle of Florida, to Wadley, Georgia, runs through Dublin.
Rail
Dublin-Laurens County has developed strategic rail sites over the past five years to include one of the nation's premier mega sites with 5,000 linear feet of rail plus with a recently acquired 331 acre rail site. Both of these sites are served by Georgia Central Railway (GC), owned by Genesee & Wyoming Inc. (G&W), which owns or leases 114 independently operated short line and regional freight railroads throughout North America. In addition to outstanding customer service and reliability, GC provides a unique opportunity in Laurens County for companies seeking business advantages in transportation. GC provides Class 1 rail connectivity to two providers—Norfolk Southern in Macon, GA (45 miles), and CSX in Savannah, GA (100 miles). Having this option allows companies to solicit competitive pricing for Tier 1 service, which can generate lower costs. Through its partners, GC provides direct access to the fastest growing port in the U.S.—Savannah, only 100 miles from Dublin-Laurens County—along with other major U.S. ports.



Ports
Dublin-Laurens County is located less than 120 miles from the Port of Savannah, the largest single-terminal container facility of its kind in North America. Operated by the Georgia Ports Authority and specializing in breakbulk, containers, Ro/Ro, heavy-lift and project cargo, the port is composed of two modern, deepwater terminals: Ocean Terminal and Garden City Terminal.
The Port of Savannah is the fastest-growing and third-largest gateway for containerized trade, with more than 70 percent of the population reachable within a two-day drive.
In fiscal year 2019, the Georgia Ports Authority moved more than 37.5 million tons of cargo, 4.5 million 20-foot equivalent containers and 650,000 auto and machinery units.
The Port of Savannah Features:
Nine deepwater berths with 9,693 feet of continuous berthing
Two Class 1 Railroads on terminal with on-dock rail and line haul services
Immediate access to major interstates I-16 and I-95 with 150-plus trucking options
An average single move time of 33.8 minutes and double move time of 55.8 minutes
158 rubber-tired gantry cranes, 36 ship-to-shore cranes
More than 72 million square feet of private industrial space in the Savannah market
1.4 million square feet of covered storage
2,856 Reefer Rack Slots
Dedicated Ro/Ro facility of 19 paved acres
Largest concentration of import distribution centers on the East Coast
Balanced trade with 52 percent in exports and 48 percent in imports
On-terminal USCBP inspections at the Garden City Terminal
Growth for the Future
In 2014, the Savannah Harbor Expansion Project was authorized to begin construction to deepen the harbor to 47 feet through the Water Resources Reform and Development Act of 2014. Completion is expected in early 2018. In addition, the Port of Savannah has planned investments of the next decade of $1.4 billion.
Plans to grow annual capacity from 6 million twenty-foot equivalent container units to 11 million.
Georgia Ports Authority Economic Impact
The Georgia Ports Authority supports more than 440,000 jobs throughout the state, contributing $25 billion in income, $106 billion in revenue, and $2.9 billion in state and local taxes to Georgia's economy in 2017.