Best Buy invests $19 million in Laurens County
January 16, 2020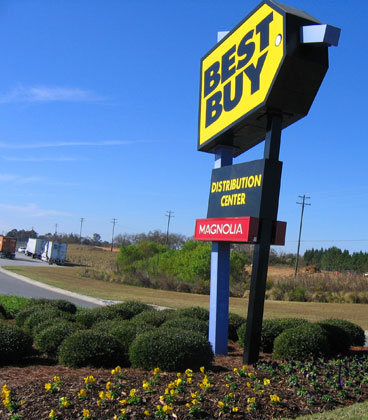 DUBLIN, GA, January 15, 2020 – The Dublin-Laurens County Development Authority (DLCDA), announced today that Best Buy is investing $19 million in technology at its Dublin Distribution Center that will help get packages out more quickly and sustainably for customers in the Southeast United States. At the same time, the company has committed to keep its current staffing levels in Dublin.
"We have a long history in Dublin and our team plays a very important role in delivering the latest and greatest technology to the homes of customers and keeping our stores across the Southeast stocked," said Rob Bass, Best Buy's Chief Supply Chain Officer. "We are excited to invest in technology that will help us serve our customers more efficiently as online shopping continues to grow."
In 1999, Best Buy, which is headquartered in Richfield, MN, announced that Dublin would be the home of their distribution center to serve the Southeastern U.S. market. The 850,000 square foot facility sits on approximately 100 acres and currently employs 215 people.
"Best Buy has been an important part of the Dublin-Laurens County community since 1999," stated Guy Cochran, chairman of the Dublin-Laurens County Development Authority Board of Directors. "The addition of this new technology will help ensure the future success of the Dublin facility and we applaud Best Buy on their recent expansion of new machinery and equipment here in Laurens County."
"Having companies choose to reinvest in the communities they call home is incredibly rewarding and a real testament to Georgia's workforce and logistics infrastructure," said Georgia Department of Economic Development Commissioner Pat Wilson. "We congratulate and thank Best Buy for its continued investment in Georgia. Supporting our existing industries is a critical focus for the department, and we are proud to work with our local partners in Dublin and Laurens County on this exciting, continued growth."
About Dublin-Laurens County Development Authority
The Dublin-Laurens County Development Authority is responsible for attracting new industry and encouraging the expansion of existing industry throughout Laurens County. Between Laurens County's location in the Business Heart of Georgia, passionate people, and a refreshing lifestyle, the "Three L's" (location, leadership, and livability) create the ideal environment for growing companies.