Training Resources

Dublin–Laurens County has exceptional technical training to meet the needs of multiple industry sectors. Thanks to our easily accessible technical training options, the Dublin-Laurens County region produces a robust, talented, and reliable technical workforce.
Oconee Fall Line Technical College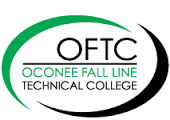 Oconee Fall Line Technical College (OFTC) provides high-quality, low-cost career education. Serving the citizens of Middle Georgia, the DuBose Porter Regional Business & Industry Training Center is the largest venue of its kind between Macon and Savannah.
OFTC's strength lies in equipping students with hands-on and theoretical skills that match the needs of local employers. The community institution works closely with the City, County, and businesses as part of the state's QuickStart program.
This successful match has allowed OFTC to more than quadruple both its enrollment and number of programs offered since 1984, as well as consistently providing a career placement rate of over 95%.
Their award winning curriculum offers 3 different award programs in over 35 different fields of study.
Georgia QuickStart

For more than 40 years, QuickStart has provided customized workforce training free-of-charge to qualified businesses in Georgia.
Today, the program is one of the state's key assets for supporting new and expanding industries. QuickStart delivers training in classrooms, mobile labs or directly on the plant floor, or as they say it, "wherever it works best for a company." The program is recognized by publications such as Expansion Management and Fortune and since 1967, more than 3,700 companies and 390,000 Georgia workers have benefited from this no-cost program.